Soup of the day made fresh daily Cup 5.99 Bowl 7.99
( large salad served with garlic bread)
Garden Salad
10.99- Large 7.99- Small
Fresh tossed lettuce, tomatoes, cucumbers and your choice of dressing Large 10.99 Small 7.99
Greek Salad
Large 11.99 Small 7.99
Fresh cucumbers, tomatoes, green peppers, red onion and whole kalamata olives tossed in a traditional dressing and topped with feta cheeseLarge 11.99 Small 7.99
Mighty Caesar
Large 10.99 Small 7.99
Fresh romaine tossed in our homemade Caesar dressing, garlic croutons and shredded parmesan cheese Large 10.99 Small 7.99
Beetroot & Goat Cheese
13.99
Artisan lettuce, shredded beets & carrots with honeyed walnuts tossed in maple-champagne vinaigrette 13.99
Spinach, artisan lettuce and shredded carrot tossed in our house balsamic – dijon dressing with seasonal fruit, feta cheese and almonds on top, finished off with balsamic reduction 13.99
Cucumber, tomatoes, lettuce, onion, dice naan bread, fresh mint, parsley with dash off sumac, lemon and garlic dressing, garnished with tahini and yogurt dressing 12.99
by adding chicken breast 8.99 sautéed garlic tiger 8.99 and wild salmon 11.99
Zawa Brunchwe use only free range eggs
All served with  hash browns, substitute  hash browns for  (Fruit , Caesar , Garden) salad Or Soup, 3.99  | substitute your bread for Gluten-Free  1.99
Zawa's Classic Breakfast
$14.99
Two free range eggs, bacon or sausages or ham, with hash browns and toast
Chorizo or Turkey Breakfast
16.99
Two free range eggs served with chorizo or turkey sausage or beyond meat sausage , hash browns and toast
8 oz AA Canadian N.Y. steak charbroiled as you like it Served with two free range eggs, hash browns and toast
Lumberjack 's Breakfast
18.99
Three free range eggs, sausages, bacon, or ham, a pancake, hash browns and toast
Two free range Scrambled eggs, ham, bacon & cheese, on your choice of bread
Health sense Scramble
17.99
Two free range Scrambled egg whites, wild smoked salmon, spinach, tomato and onions. Served with fruit and toast
Fruit Salad
Small 6.99 Large 9.99
Granola, Fruit & Yogurt
11.99
Organic Chili Tofu Hash
15.99
Organic tofu, spinach, mushroom, tomato, bell pepper, onion, and potato served with toast in chili sauce
Braised beef, tomatoes, bell pepper, onion, potatoes, spiced with curry and cayenne topped with two free-range eggs served with bread
Country Breakfast Bowl
16.99
Bacon, ham, cabbage, sausage , onion mushroom, tomato. Topped with two free-range eggs served with bread
All served with pan-fried or deep fried hash browns
Eggs Benedict
Homemade butter falafel patty, spinach, tomatos.
Smoked salmon, spinach, capers ,on English muffin
WithCanadian back Bacon on an English muffin
(served with syrup and butter) Add. strawberries or chocolate for 1.49
Sweet Concoction
Freshly made , fluffy buttermilk pancakes topped with fresh fruit and wipping cream.
Fluffy Homemade Belgian Waffle
15.99
Homemade pulled pork with three pancakes topped with fresh fruit and wipping cream
Omelettes
Three free range eggs (your choice of omlette or wrap) served with homemade pan-fried or deep fried hash browns and toast
Chorizo, tomatoes, onions, peppers, jalapeno, Cajun spice, and cheese
Stuffed with homemade salsa, jalapenos, onions, cheese and served with sour cream
Loaded with breakfast sausage, bacon, ham and cheese
Spinach, onion, tomato, green pepper, feta cheese
Wild smoked salmon, capers, tomato, onion with goat cheese
Add on to your breakfast
Ham or back Bacon   4.99
Extra Free Range Eggs      2.99
Cheese (Feta, Swiss, Cheddar or Mix)  2.99
Hollandaise Sauce   2.99
Toast or English Muffin And Jam   4.99  Breakfast Sausages 3.99
Mushrooms, Onions, Jalapeños, Bell Peppers 1.49
Bacon 3.99
Chorizo or Turkey Sausages 4.99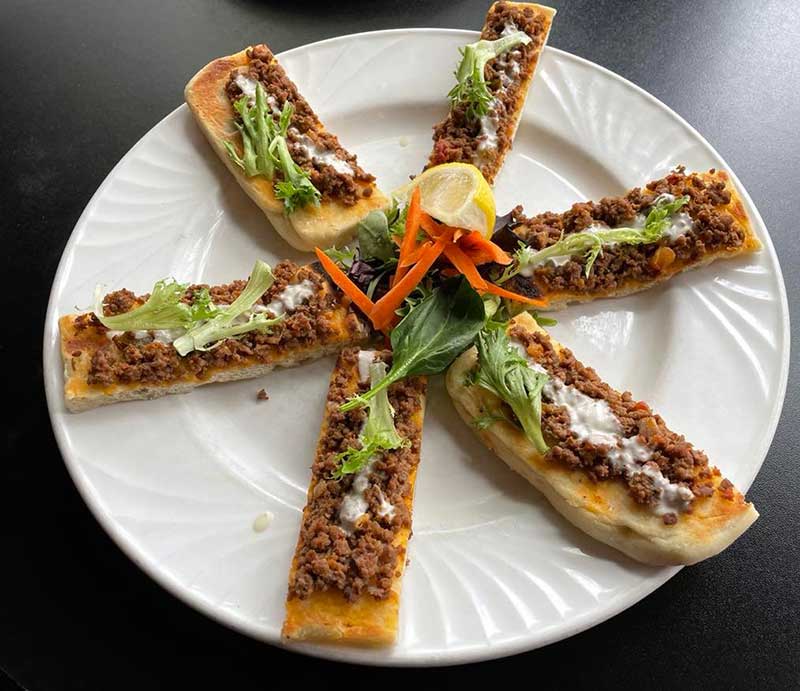 Our homemade fries smothered in cheese curds and gravy add pulled Pork or Braised beef 7.99 extra cheese 4.99
Nachos
Large 19.99 small 13.99
Crispy tortilla chips loaded with cheese, green onion, jalapenos and dice tomatoes .served with salsa and sour cream Add Refried bean 3.49 |Guacamole 3.99|Braised beef 7.99 Pulled pork 7.99 | Chicken breast 7.99
Brazilian Chicken Wings
1/2 Pound 8.99 Pound 15.99
Crispy Brazilian wings tossed in your choices off honey garlic, teriyaki or louisiana hot sauce .
Kalamari
17.99 add chili peppers 1.99
Tender Lightly breaded squid rings sprinkled with onion and served with Tzatziki
Zawa impossible ground meat flatbread
14.99
Impossible ground meat on flatbread mixed with onion, tomatoes & spice, garnish with arugula
Zaatar Manakish flatbread
11.99
Naan bread topped with sesame seeds, feta cheese & mixture of herbs infused with olive oil served with mini hummus
Chili garlic Prawns
18.99
10 pieces of tiger prawns sauteed in our spicy chili sauce served with crostini bread
Flatbread topped with ground beef, tomato and infused with olive oil
Baba Ganoush or Hummus or Tzatiki
9.99
served with naan bread and carrot and celery stick
Tri dips of Hummus, Baba ganoush, Tzaziki, pita and celery and carrot sticks
Fresh cut of yam fries
10.99
with chipotle or aioli
Fresh homemade fries
8.99
with chipotle or aioli mayo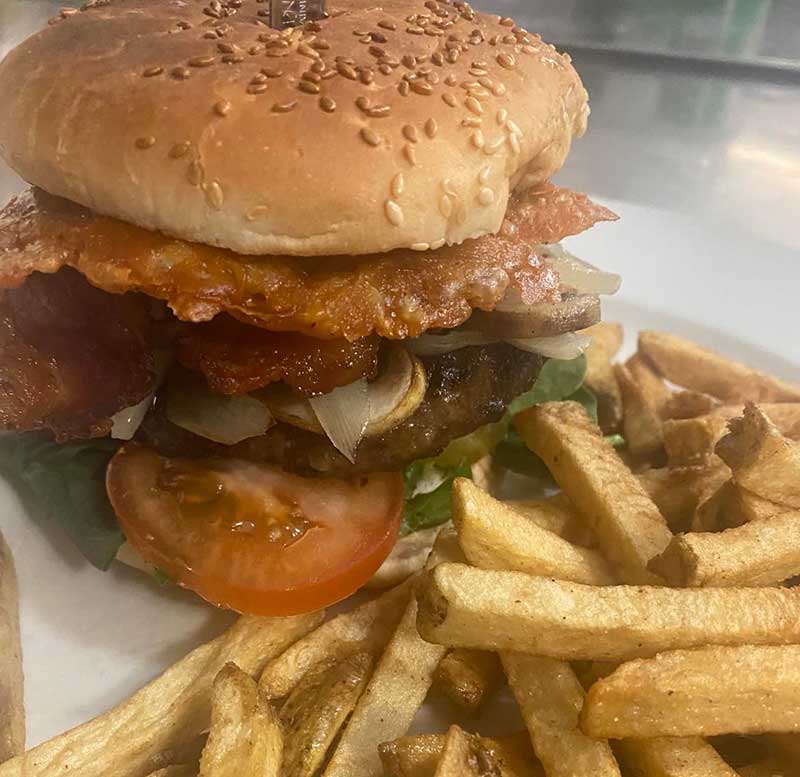 All served with homemade French fries.
substitute your fries with  ( Caesar salad, garden salad, yam, or soup 3.99 
Greek Salad 6.99 | Poutine 10.99 |half fries and salad 5.99 substitute your bun with  Gluten-Free 2.99
Zawa's Signature Burger
17.99
For the really hungry! Our 8oz beef burger with double smoked bacon, grilled onions, sauteed mushrooms & grilled Parmesan with tomato, lettuce, and house sauce
Awesome 8 oz. charbroiled lean chuck burger, tomato, lettuce, pickle & house sauce
Grilled chicken topped with cheddar, bacon, guacamole with lettuce, tomato & mayo
Louisiana Chicken Burger
17.99
Grilled chicken topped with pepper, onion, cheese, in Louisiana hot
Grilled chicken, yams, squash, carrots, sweet potatoes, onions, jalapeño and cheese folded in a flour tortilla
Signature Club House
17.99
(Your choice of bread) Triple decker loaded with, bacon, black forest ham, turkey breast, smoked cheddar, Swiss cheese lettuce, tomato and mayo
Grilled wild salmon, tomato, red onion lettuce & wasabi-citrus mayo
Mexi Burger
Beef 17.99 | Chicken 17.99 | Veggies 17.99
(Served with sour cream) Gourmet veggie patty topped with melted mixed cheese, jalapenos and our fresh homemade salsa
Homemade lamb patty topped with feta cheese , tzatziki ,cucumber , tomatoes
Two pieces Lightly beer battered cod fillet, fried to golden brown and served with French fries and tartar sauce
Chicken Finger & fries
17.99
Home made Lightly breaded chicken tender – with French fries and your choice of dip.
Impossible burger patty, made from soy protein and vegetables, sunflower oil, coconut oil, potato protein & yeast extract. served with tomatoes, lettuce, choice of hummus or chipotle
Loaded with sautéed onions, green peppers, mushrooms, Swiss cheese, tomato, lettuce and wasabi-citrus mayo
Our homemade vegan burger (Chickpea, green onion, parsley, fresh dill, fresh basil, garlic, and spices) deep fried and Served with avocado, raw onion, tomatoes, lettuce, and homemade hummus
ENTRÉES
we have many entrée dishes that suite the tase of everyone
New Zealand spring lamb shoulder marinated and slow roasted. Served with roasted potatoes, Greek salad, rice tzatziki, and naan bread
Juicy 10oz. Canadian AA New York steak charbroiled to perfection with your choice of potatoes, seasonal steamed vegetables or garlic toast
New York Steak and Tiger Prawns
36.99
Tender aged 10oz. Canadian AA New York Steak charbroiled to your liking with citrus garlic tiger prawns. Served with your choice of potatoes, seasonal vegetables or garlic toast(ADD peppercorn sauce or mushrooms to your steak 3.00)
Fresh seasonal vegetables lightly stir-fried in teriyaki ginger or spicy peanut sauce, and served over rice. Chicken 20.99 | Lamb 24.99 | Tiger Prawns 25.99 | Organic Tofu 19.99 | Veggies 18.99
Lemon and Garlic Free Run Chicken
29.99
A light seasoning of lemon, garlic and white wine served with steamed veggies potatoes and garlic bread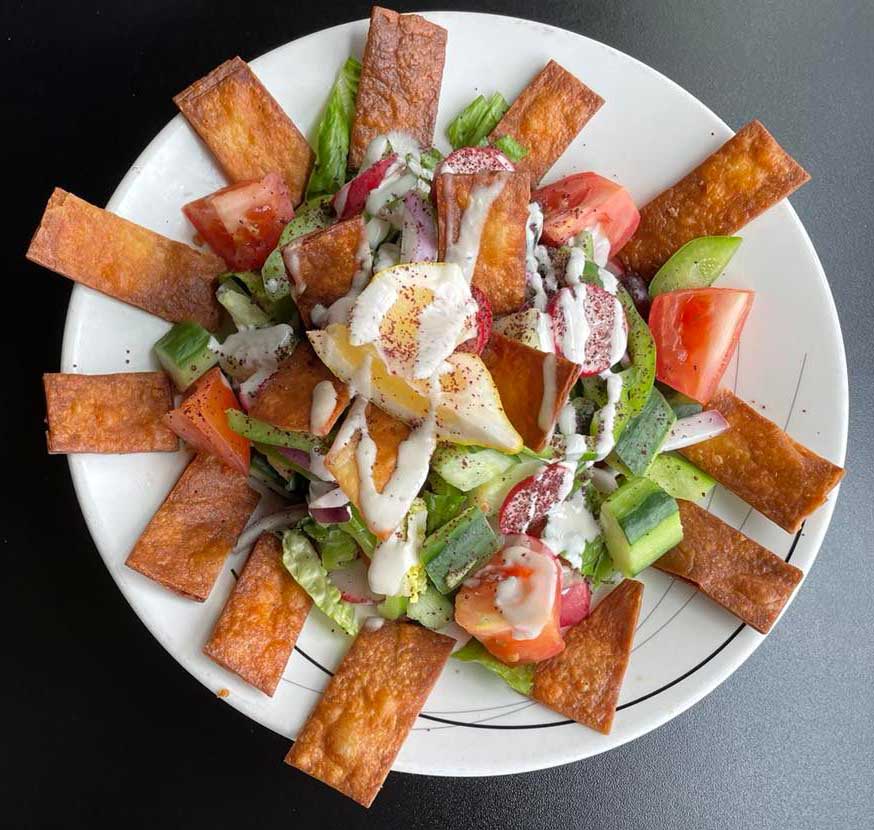 All Pastas dishes are served with fresh garlic, basil and onion, topped with olive oil and Parmesan cheese, and served with garlic bread
(Gluten-free pasta extra 4.99)
Option to change ( noodles, sauce and the level of spice ) for no extra charge
Fettuccine with Meatballs
19.99
Our homemade tomato sauce topped with homemade meatballs and fresh Parmesan cheese
Fettuccine Primavera
19.99
Fresh garden vegetables tossed in our homemade cream
Impossible Fettuccine bolognese
24.99
Fettuccine with plant -based impossible meat with tomatoes sauce
Fettuccine Con Pollo
21.99
Grilled chicken, sun-dried tomatoes, fresh basil and garlic in a white wine sauce
Tiger prawns, baby shrimp, white fish, and mussels in a cream sauce, topped with fresh parmesan cheese
Chicken Fettuccine Alfredo
19.99
Tender grilled chicken in a creamy alfredo sauce
Chicken Fettuccine Alfredo
19.99
Tender grilled chicken in a creamy alfredo sauce
Grilled chicken, spicy chorizo, baby shrimp and fresh mushrooms in a spicy red sauce
Spicy chorizo paired with smoked bacon in our homemade spicy Cajun tomato mushroom sauce
With mushroom in a fresh spicy jalapeño sauce. Choose your spice level
Our homemade lasagna featuring layer upon layer of ground beef, sautéed onions and fresh parmesan in our zesty red sauce, topped with plenty of melted mozzarella and cheddar
Wild Stillhead Salmon
31.99
Lightly seared then simmered in lemon, white wine and garlic. Served with seven spice rice, steamed seasonal vegetables and garlic toast
Tender lightly breaded squid served over seven spices rice with Greek salad, special roasted potatoes, tzatziki, and pita
Chili Garlic Prawns Dinner
33.99
10 Jumbo tiger prawns sautéed in our spicy chili sauce| choose your level of spice| served with seven spices rice roasted potatoes, signature salad, tzatziki, and naan bread
All souvlakis are served with rice, Greek salad, roasted potatoes, tzatziki and  naan bread
chicken Large 27.99 – small 22.99 |Lamb large 31.99 – small 25.99 |Prawns large 29.99 – small 25.99
Chicken 9.99 | Lamb 12.99, Kebab 10.99 or Prawns 10.99
Lamb Kebab
small 24.99.99 | large 29.99
Ground lamb with herbs and seasoned with Mediterranean spices. served with rice, Greek salad, grilled tomatoes, and pita bread –
Poire by Eric Bordelet
$16
Poire by Eric Bordelet
$16